Marian studied and worked in Madrid before coming to the UK.  She has had a varied career designing interiors for commercial and residential projects, as well as graphic design and completed a Masters in Architectural Conservation in 2009.
Selected Projects with Davies Torres Design
Conservation statement and Historical Report for Melksham Court, Gloucestershire.   Prior to alterations, a report on the current state of the building and research into the archive materials and documentation.
Selected projects before starting Davies Torres Design
A church and museum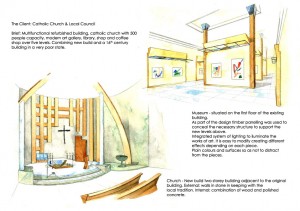 A private residence